Mamba F722APP Stack - F60PRO 3-6S
The Mamba F722APP + F60 60A Stack from Diatone brings BIG power all in a 30.5x30.5 mounting size! This stack can push 60A all while bringing you the latest features!
Subscribe To When In Stock
You have successfully subscribed to this product

Buy secure. We use Paypal and other secure platforms.

Fast delivery. 24/48 hours Spain. 3-7 days international.

Return policy. Read our terms & conditions.
Calculate Shipping Cost
Description
MAMBA F722S APP  I2C WIFI  F50PRO 3-6S Flight Controller Stack
Diagram Link From Help Centre Link
Note:Since STM32F722 heat large , please leave at least 5mm interspace at both sides of the FC with nothing covered to make sure a good air circulation.
Update Details:

BT to WiFi
USB power supply can use receiver, OSD
Add a group of I2C pads (SCL SDA)
Add inverter Dual-Way TX serial port
Add 2812 LED switch function, key can turn off led
Add 4 corner LED interface to support BF led and Mamba led
Upgrade to stronger type-C, optimize pad position
FC Specifications

MCU: 216MHz STM32F722RET6 32BIT
IMU: MPU6000
Barometer: No
OSD: BF OSD
Blacbox: 16M Flash Memory
Uarts: 6Set
ESC Soft: Dshot300/600/1200
ESC Telemetry: RX6
LED indicator: Blue&Orange for FC Status,Green 9V,White 5V,Red 3.3V

LED Controller:BF LED/MB LED( 4 Set 2812 LED)
WIFI: SpeedyBee APP 
Smartaudio: Yes
Buzz: Yes
Input: 3~6S Lipo (12.6~25V)
TVS Protection: Yes 
BEC: 5V 2.5A & 9V 2A (Max 3A)
MOUNTING: 30.5mm/M3 WEIGHT: 9g
Supply : 
8pin sh1.0 *1
Smartaudio: Yes
Buzz: Yes

Input: 3~6S Lipo (12.6~25V)
VTS Protection: Yes


ESC Specifications
F60PRO
INPUT VOLTAGE: 3~6S Lipo (12.6V~25V)
CONTINUE CURRENT: 75A×4
BURST CURRENT: 60A (10S)
BEC: NO
ESC Dshot300/600/1200
MOUNTING: 30.5mm/M3
Supply : Panasonic High Frequency 470uF/35V    

Mounting: 30.5×30.5mm,Φ3
Dimensions: 
Weight: 22g

Including
1×MAMBA F722 APP <WIFI>  F60PRO  STACK


About SpeedyBee Function:
For  WIFI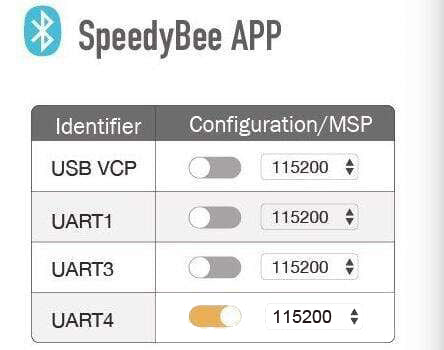 For  BlueTooth